Simple Man Guitar Lesson (Lynyrd Skynyrd)
I've noticed over the years often students have a hard time hearing the difference between ARPEGGIO picking and FINGER-picking in a song.
This can be tricky to know and distinguish.
Both techniques can create a similar vibe. However, there is a slight difference in the sound and style with each technique.
Today I want to share with you an example of arpeggio picking in this "Simple Man" guitar lesson. With hopes that it reinforces this technique in our minds. So we can easily recognize it when it comes up again. PLUS we'll also take a look at a number of other super valuable techniques you can start using in your guitar playing right away.
So grab your guitar and let's dive in!
Who Wrote Simple Man?
The song "Simple Man" was written by Ronnie Van Zant and Gary Rossington of the American rock band Lynyrd Skynyrd. It was released on their debut album, "Pronounced 'Lĕh-'nérd 'Skin-'nérd," which came out in 1973.
The album also featured other iconic Lynyrd Skynyrd songs like "Sweet Home Alabama" and "Tuesday's Gone."
"Simple Man" is known for its heartfelt lyrics, which encourage a simple and humble approach to life. It has become one of Lynyrd Skynyrd's most signature songs and a staple of classic rock radio.
Lynyrd Skynyrd was a Southern rock band from Jacksonville, Florida, known for their distinctive sound, blending elements of rock, blues, and country music. Tragically, several members of the band, including Ronnie Van Zant, lost their lives in a plane crash in 1977. Despite this devastating event, Lynyrd Skynyrd's music continues to be celebrated and enjoyed by fans around the world.
Is Simple Man tuned down?
Yes, the original recording of "Simple Man" by Lynyrd Skynyrd was recorded with the guitars tuned down ½ step. This means that each string on the guitar is tuned one half-step lower than standard tuning.
The standard tuning for a guitar's six strings, from lowest to highest, is E A D G B E. In half-step down tuning, each string is tuned down by one half-step, resulting in the following notes:
Eb Ab Db Gb Bb Eb
Tuning your guitar down 1/2 step is relatively simple.
Here are the steps to tune your guitar from standard tuning (E A D G B E) to 1/2 step down (Eb Ab Db Gb Bb Eb):
Step 1: Start with your guitar in standard tuning.
Step 2: Use a guitar tuner to help you get the right pitch for each string. If you don't have a tuner, you can use a reference tone from another source, such as a piano or a tuning app.
Step 3: Tune each string down by 1/2 step (or 1/2 fret). Here's how you can do it for each string:
6th String (Low E): Tune it down to Eb (E flat).
5th String (A): Tune it down to Ab.
4th String (D): Tune it down to Db (D flat).
3rd String (G): Tune it down to Gb (F#).
2nd String (B): Tune it down to Bb.
1st String (High E): Tune it down to Eb (E flat).
After adjusting each string to the correct pitch, make sure to check the tuning again using your tuner or reference source. Fine-tune as needed until all strings are in tune.
Once all your strings are correctly tuned to 1/2 step down, your guitar will be in Eb Ab Db Gb Bb Eb tuning. (Sometimes also called Eb standard)
Remember to take your time when tuning your guitar, especially when making significant changes in tuning like going from standard to 1/2 step down. It's important to be patient and ensure each string is in tune to achieve the best sound and playability.
Playing "Simple Man" in this tuning gives it a slightly lower and richer sound compared to if it were played in standard tuning. This is a common practice in rock music, and it's used to achieve a particular tone or to make it easier for the vocalist to sing in a lower register.
Simple Man Guitar Chords
To play "Simple Man" you'll only need to know 3 chords, C, G, and Am. That is the core progression. But we are going to expand on those chords and use some different approaches to mix it up throughout the song. To start though, let's take a look at how to play these 3 chords.
C can be played in an open position from the 5th string down like this:
G can be played with the ring finger on the 6th string (while also leaning over and muting the 5th string) and the pinky finger on the 1st string like this:
Am can also be played from the 5th string down like this:
Simple Man Guitar Lesson For Beginners
Now that you know the chords needed to play "Simple Man" from the above section. Let's next put them into the chord progression and start with a "Simple Man" guitar lesson for beginners.
The entire progression of this epic song is just 2 bars long. First, we'll start with a split bar of C and G. Then in all of bar 2 we'll play Am like this:
C, G (1 bar)
Am (1 bar)
Start by practicing the chord progression in that order, and strumming once per chord per bar like this:
C G
1 2 3 4
Am
1 2 3 4
I also recommend counting out loud and tapping your foot to get your WHOLE body feeling the rhythm. (Pro tip: tap the foot opposite of your strum hand)
Once the chord shapes are starting to feel comfortable in your fretting hand. And you can move between them in time.
Next, let's take things up a notch and add in a fancier strumming pattern.
What is the strumming pattern for Simple Man?
Here is an example of a strumming pattern you could use to create the groove and feel we all love from "Simple Man".
The pattern is only 2 beats long. Let's take a look at it first on a C chord.
For beat 1, we'll play 2 eighth note downstrums like this:
Then on beat 2, we'll play 1 eighth note downstrum and then 2 sixteenth notes as a down and then an up like this: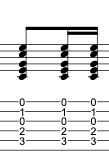 So altogether the 2 beat pattern goes like this:
The underlying groove you want to be thinking and feeling in your mind is sixteenth notes. This is where we split each beat into 4 parts. I count them like this:
1 e + a 2 e + a 3 e + a 4 e + a
What is the picking pattern for Simple Man?
As I mentioned above the guitar technique being used is called arpeggio picking.
Arpeggio picking on the guitar is a technique where you play the individual notes of a chord in a broken or sequential fashion rather than strumming all the notes simultaneously.
This is also why it 'kinda' sounds like fingerpicking. Because a fingerpicking approach is similar.
Arpeggio picking involves picking or plucking the strings one at a time to create a melodic and often arpeggiated (hence the name) pattern.
One of the hardest parts of playing this way is the accuracy and control required from your picking hand.
Here is an example of applying arpeggio picking to a chord progression in the style of "Simple Man".
(Note: the Am chord used in the above example is an Am7. To play this chord, play the Am we learned previously but then add your pinkie finger to the 3rd fret on the 1st string.)
Use this pattern as an exercise to develop your arpeggio-picking chops. Keep in mind that doing this up to speed is NOT easy. And it doesn't have to stay the same pattern through the whole tune. But this will get you started in this style. It won't be perfect at first, but keep in mind the guitar players of Lynyrd Skynyrd were exceptionally great. To play like them isn't something someone just waltzs into the room and does.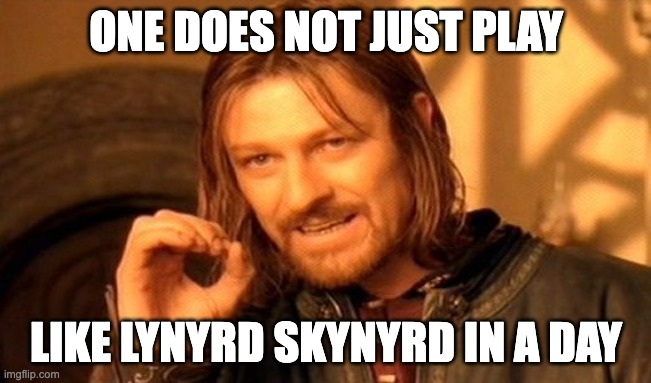 But take these exercises and progressions, start with an easy version, and then build from there. Have fun, and in time you will develop the sound.
Conclusion:
To wrap it up, "Simple Man" by Lynyrd Skynyrd isn't just a legendary rock tune—it's a valuable lesson on key guitar playing techniques. Plus how they can be fused together in a song. The blending of arpeggio picking, chord progressions, and heartfelt lyrics, all in perfect harmony.
Getting a handle on "Simple Man" demands commitment, practice, and a good ear for picking out the subtleties.
By unlocking the chords, strumming patterns, and picking techniques we've covered here. You'll be on the right track to capturing the essence of this iconic song.
So keep practicing and for more great Lynyrd Skynyrd style guitar lessons check out "Call Me The Breeze", or "Tuesday's Gone" next!
Like this blog post? Get Jon's best guitar lessons straight to your inbox.